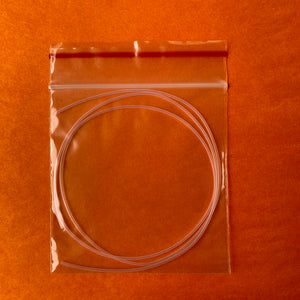 PTFE Capillary Tubing for Thin CA Glue - 2 Feet
This tubing can be cut to any length and inserted in our thin CA glue tops (including our thin Pocket CA) to allow precise application of very small amounts of thin CA glue.  This tubing is meant for thin CA and odorless thin CA and will not work well for medium CA or other glue types.  If the tubing becomes clogged, simply replace it with a new piece of tubing.  
Tip: Cut the tubing at an angle to make it easier to insert into the top of your CA glue.
Clever indoor model builders can make tiny PTFE washers using thin slices of this tubing!
Package of 2 feet of tubing.