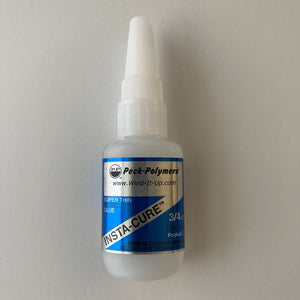 Pocket CA Glue - Insta-Cure Thin 3/4 oz.
Pocket CAs feature a pin built into the cap that covers the nozzle. This pin helps prevent nozzle clogging and seals the bottle so that if it is tipped over, it will not leak.  This makes the Pocket CAs ideal for keeping in your tool or field box!  We highly recommend using the Pocket CA Extender Tips with this glue, since the bottle tip is too blunt to apply small amounts of CA, especially in tight places.  Get a single Extender Tip or buy a six-pack to always have a working tip!
Insta-Cure thin CA glue has a water-thin viscosity that wicks deep into joints by capillary action and cures in a few seconds. Surfaces to be bonded must be tight fitting and held together while you apply the CA to the seam. Thin CAs work very well on balsa since they penetrate into the wood and form more than just a surface bond. At the moment CAs cure, they can give off a vapor that can irritate the nose and eyes, so be prepared.
To be used by adults or by younger modelers only with adult supervision.  CA glues can bond skin instantly.  More information at the manufacturer's website: http://bsi-inc.com/about/faq.html  Cannot be shipped outside the USA.