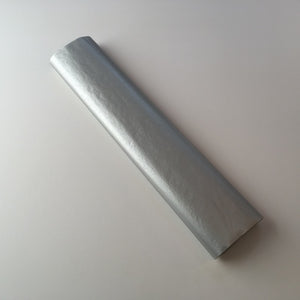 Peck Silver Tissue
Bright metallic color and light weight make this a winner for model jets or any time a realistic metal look is what you're after!
You will love our tissue - light weight (silver averages 3.5 grams per sheet) and inexpensive.  Our sheets are now 15 by 20 inches which makes them easier to handle at your workbench!  All our tissue is shipped rolled.
One 15 x 20" Sheet - Made in the USA.
We have been told by a Customer that they had trouble with our Peck Silver tissue when using Nitrate model airplane dope. If you use nitrate dope, you may want to try our Peck Light Gray tissue instead and finish it with silver paint or dope!