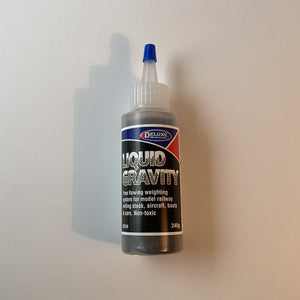 Deluxe Liquid Gravity
A non-toxic, easy flowing, weighting system used to adjust the balance point for model planes.  Specially designed to pour into small cavities and set in place with your favorite CA or other thin-to-medium glue or epoxy.  Instead of a lump of clay on your model, hollow out the back of the noseblock, pour in some Liquid Gravity and fill with glue to set it!   By volume, as heavy as tungsten steel.  May also be used for model boats and submarines, scale models, model railway rolling stock, model cars, etc.
240g bottle.
An extra shipping charge may apply - this little bottle weighs over 1/2 pound!  We will contact you if we need to increase shipping charges.