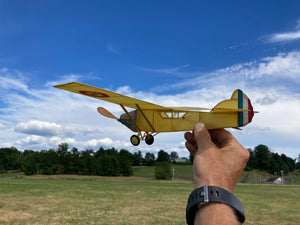 Short Kit-1929 Potez "34" Pseudo Dime Scale
NOTE: THIS KIT IS ONLY AVAILABLE FOR THE GLASTONBURY AEROMODELERS - NOT ELIGBLE FOR SHIPPING.  GYM DELIVERY ONLY!
1929 Potez "34" Pseudo Dime Scale Short Kit by Peck-Polymers.  Designed by Tom Nallen II, the Potez "34" is drawn in the fashion of 1930's kit designs.  By minimizing the number of parts, kit makers could offer kits for only one dime, and builders were rewarded with a model that looked real (almost) and flew great, due to the minimal structure. 
The real Potez "34" was flown in 1920's distance competitions, but was lost on a record attempt to fly from Paris, France to Saigon, Vietnam.  The pilots made their way out of the jungle, but the plane was lost forever.  
The Potez "34" offers simple construction and a very appealing model that flies extremely well due to its generous wing area.  This version of our short kit includes only high-quality laser-cut wood parts and plans.  The wheels are supplied as balsa parts, to be built-up.  The builder will need to supply balsa sticks, prop, shaft, bearing and all other needed hardware.  Model building know-how is also required!
Eligible for Flying Aces Club Dime Scale competition.  
Short kit includes ONLY high quality laser-cut balsa and plans.