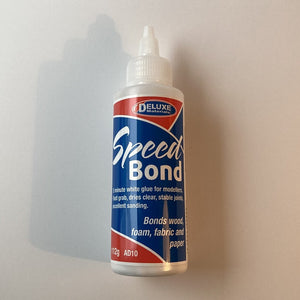 Deluxe Speedbond Glue
Faster drying white glue!  Water clean up!   

This is a 5-minute white glue that grabs fast, dries clear and can be sanded when fully dry.  Special modelling PVA glue that contains no fillers.  Great for bonding foam, wood, and paper!
Finally a faster-drying glue that won't knock you out with fumes!

May be used with the Deluxe Pin Point Bottle Kit for precision application!
112g bottle.