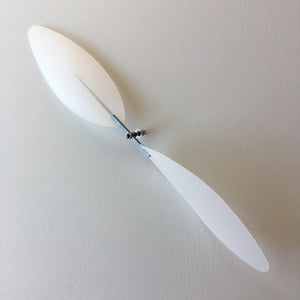 Ikara 240mm Prop Assembly
Ikara 240mm Prop Assembly - super light and precision made!  The blades are made from thin styrene, and they may be cut down to a smaller size.  
Comes as an assembly with bead, .020 prop wire and 5mm bearing designed for the new Ikara Prop Hook, which is available here.  This assembly can be upgraded with our Reverse 'S' .020 prop shafts.
Shipped in a sturdy tube to protect the prop!

Made in the Czech Republic by Ikara, who specializes in props made for lightweight models designed to fly indoors.