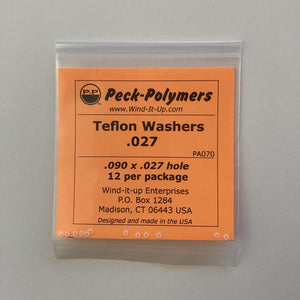 Teflon Washers - .027
These tiny washers are sought after by fliers of indoor models using very small prop shafts, up to .025 diameter.
These washers can be placed between your prop and prop bearing to reduce friction for improved prop performance.  These washers work only with our .020 Reverse 'S' prop shafts and will be too small for any of our other shafts.  Teflon washers won't corrode but they will wear with time.
Package of 12 Teflon washers. Made in the USA.